Date: 10 September 2022 to 11 September 2022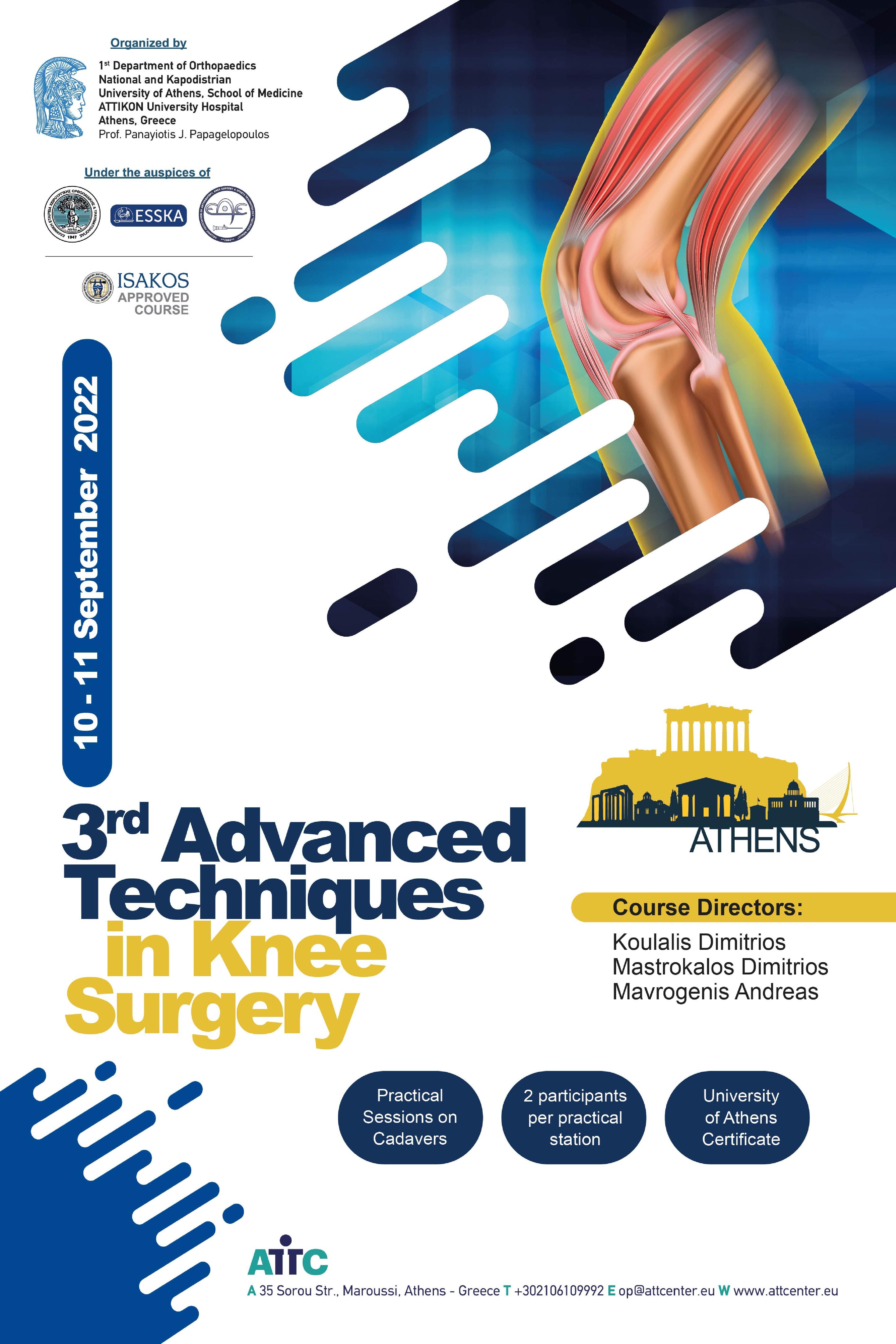 Welcome Note 
Dear Colleagues,
On behalf of the organizing committee of the "3rd Advanced Techniques in Knee Surgery" course, which will be held on the 10th and 11th of September 2022 at the ATT Center in Athens, Greece, it is our great pleasure to invite you to participate in the scientific program.
The program of this 2-day course has been carefully structured and will focus on the most up-to-date developments in surgical approaches and treatment of knee pathologies. It includes hands-on practice on cadaveric specimens, as well as lectures on the recent advances of knee surgery and treatment.
This course aims to provide an excellent opportunity for young orthopaedic surgeons to broaden their knowledge of knee surgery and approaches, and perfect their skills, through the guidance and instruction of experienced orthopaedic surgeons both from Greece and abroad.
We warmly welcome you in Athens.
Koulalis Dimitrios

Assistant Professor in Orthopaedics

1st Orthopaedic Department

National Kapodistrian University of Athens

Mastrokalos Dimitrios

Assistant Professor in Orthopaedics

1st Orthopaedic Department

National Kapodistrian University of Athens

Μavrogenis Andreas

Associate Professor in Orthopaedics

1st Orthopaedic Department

National Kapodistrian University of Athens

NATIONAL AND KAPODISTRIAN UNIVERSITY OF ATHENS, SCHOOL OF MEDICINE

1st DEPARTMENT OF ORTHOPAEDIC SURGERY

Professor & Chairman: Panayiotis J.Papagelopoulos, MD, Dsc.,FAC